«Back
SOUND.COM provides impeccable audio solution for the AR Rahman Symphony tour
Everyone knows how crucial sound is on an AR Rahman performance and to provide audio solutions for the Classic Incantations concert, the first ever tribute to an Indian composer from the western world has made SOUND.COM extremely proud to be associated with this distinctive production along with Core Networks & Rapport Global.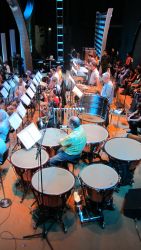 The Babelsburg Film Orchestra from Germany conducted by Matt Dunkley played tribute to the Indian maestro performing the originals score and film music written and composed by AR himself and also accompanied by the choir and soloists from his very own KM Music Conservatory in Chennai.
Sunil Karanjikar & Joel Dcruz from SOUND.COM were chosen to handle the A1 and A2 duties respectively and along with the Mix Engineer Holger Schwark they toured across the country with back to back shows and sleepless nights while Warren D'Souza played stand-in systems engineer for the Delhi & Kolkata leg of the tour. Bangalore was indeed the most challenging venue as not only did we have 4 main hangs of VerTec in the front, We also ended up with 36 delay clusters of paired VRX932LA boxes and a final row of SRX712M boxes, something that was an audio milestone in India and that was successfully executed using Optocore Node Racks and HiQnet System Architect managed ITech HD12000 power amplifiers.
Meanwhile on stage we used nothing less than the most eclectic selection of microphones ranging from the best manufacturers like Schoeps & Neumann to the upper crust range of Sennheiser, Shure, AT & AKG. Something that is prerequisite for Symphony, once you gain experience doing shows like this it really helps you to understand why we pay top dollar for these microphones. Luckily the Babelsburg Filmorchestra owned over a dozen Neumann's and this did not put too much pressure on us to come up with that number of capsules.
We also had to procure an entire range of K&M microphone stands for the event and you can just feel the robustness and beauty of these things compared to the run of the mill stands we generically use. Why all this! Its simply because AR shows are different, they always have and always will be.
"This tour has also been extremely successful because teamwork that consisted of top tier audio engineers from the SOUND.COM stables along with Holger Schwark who working and learning with, was an absolute joy. Right from advancing the tour to executing it, we fielded a tight team of engineers who have profound knowledge in the field of Electroacoustics that is second to none, backed with the biggest names likeOptocore, DiGiCo and Harman Pro" furthermore "The DiGiCo SD Ten desk was the key to defining the symphony sound, the warmth and tone that this console is capable of achieving can only be understood when you work in the field and experience the aura of this desk rather than just knowing about what it can do from an elementary perspective. The mix engineer, systems engineers and tour sound company namely us for the symphony tour totally endorse this desk. SOUND.COM also was really happy with their decision to go with the Ten against all the other numbers amongst the DiGiCo jerseys. No 10 is the Playmaker!" Commented Warren Dsouza, Founder and Managing Director of SOUND.COM
"I would like to say a big THANK YOU again to you and the fantastic sound crew for the Classic Incantations tour! It was a true pleasure to work with all of you!" commented Holger Schwark the Mix Engineer for the entire tour "Now I may say, that I felt confident in having SOUND.COM on the tour after we met in September, and I had seen your warehouse, and the fact that you guys dust off your equipment when it comes back from the dirty world, and what flavor of technology you use. But really, it's always so much more thrilling to meet great people on a tour and make friends. I think we had 5 very good shows, all being totally different in circumstances, and I am really grateful for all the support we got, especially from the audio crew." he added.

"The Symphony tour for me was personally very gratifying that we exploited technology to its maximum potential, we have used Fiber Optics, CAT5, AES & Analog to do all the audio transport and for the Multitrack Recording and Replay we have used a combination of optical and electrical MADI thanks to Optocore and RME providing us solid platforms. And while gigs like this come occasionally so do the audio challenges and at the end of the day this is what we work for, going ends to get the best sound and making the instruments sound very natural like your listening to music acoustically. Off course we have to use the best technology and audio measurement tools to make this happen. And we will never compromise to ensure the sonic success of the tour" commented Sunil Karanjikar – Head of Engineering, SOUND.COM

www.online-sound.com
www.corenetworks.in
www.rapportproductions.in
www.holgerschwark.de

Gear
DiGiCo SD Ten Console
Optocore X6R-FX, DD32R-FX, DD4MR-FX, DD2FR-FX
JBL VT4887, VT4886, VT4880, VRX932-LA, SRX712M
Crown ITech-HD12000
Rosendahl Nanosnycs HD
Eventide Eclipse
Lexicon PCM 91
RME Fireface 400, Madiface
DigiComm 125A-12U

Microphones
Schoeps CMC6 + MK4
Neumann KM184, TLM103
Sennheiser MKH8040, MKH8050, MD21
Audio-Technica 4050, AE3000, ATM25
Shure KSM9, Beta87, SM81, SM57, SM58 with switch
AKG C414, C451
Radial J48

Test & Measurement
Lectrosonics TM400A
Smaart Live v7
RME Fireface UFX

Credits
Senior Systems Engineer – Sunil Karanjikar
Mix Engineer/ Sound Designer – Holger Schwark
Systems Engineer - Joel Dcruz
MultiTrack Recording Engineer – Aditya Modi
Stage Tech – Yasin Shaikh, Mark Thomas, Giridhar Maharana